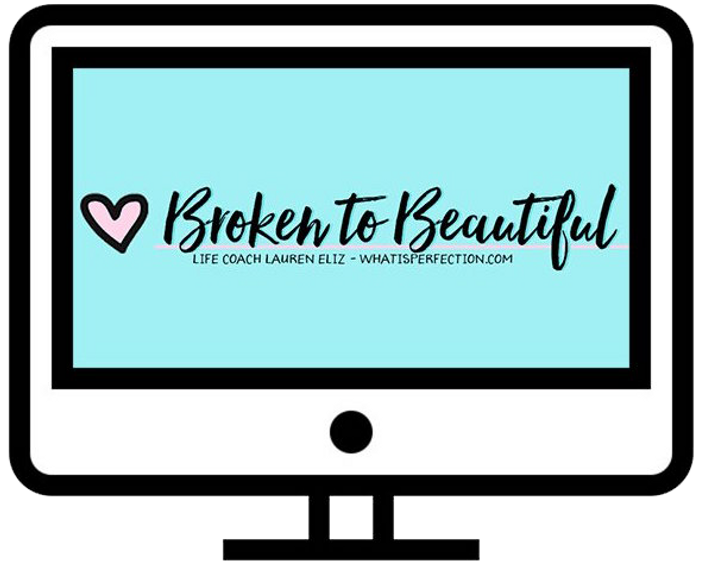 Broken to Beautiful
Recover from that unhealthy relationship. Heal Your Heart, Grow Your Confidence, and Create a new future full of love.

SO WHAT'S HURTING YOUR HEART GIRL?

Are you stuck holding onto an unhealthy relationship?

Are you frustrated with how hurt you feel and uncertain of how to heal and move on?
Imagine a world where you could have everything you ever wanted for your life.
Love. Self Confidence. Worth. And Happiness.
Guess what: You can.

AND YOU CAN DO IT ALL IN 30 DAYS.
The #1 reason women get stuck in unhealthy relationships is because they are scared of being alone. Right?
Wrong. It's way more complicated than that.
There is a massive self improvement industry out there focused on teaching women how to heal after heartbreak and learn how to start over. (Not to mention all the psychologists and therapists out there who claim to help women do the same thing.)
And most of it is bullshit. Here's why:
-How many times have you been told "It will get better one day."
--How many times have you replayed the past in therapy sessions only to feel worse about yourself after?
How many books have you seen that claim to tach you how to go out and just go be happy again?
What are you left with? I'll tell you:
A TON of theoretical information that doesn't serve you. A feeling of hopelessness and confusion. And a few actionable steps that are totally unrealted helping you move on and put the pieces back together.
Are you sick of being unhappy?
-Are you tired of feeling you will never be happy again?
-Are you ready to give up on all the useless information out there that hasn't helped you move on?
-Good. I hope you are. Because It's time to let go and take action.
Are You Ready to Change Your Life?
-Feel confident and purposeful each day by believing in your self-worth again.
-Find the systems and tools to find your self confidence and rebuild your life.
-Get super clear about who you are and what makes you stand out in this world again.
-Create a future that is full of love, happiness and unbeleivable true love (for yourself and maybe a wonderful new soulmate!)

GET OUT OF ROCK-BOTTOM WITH THE BROKEN TO BEAUTIFUL COURSE.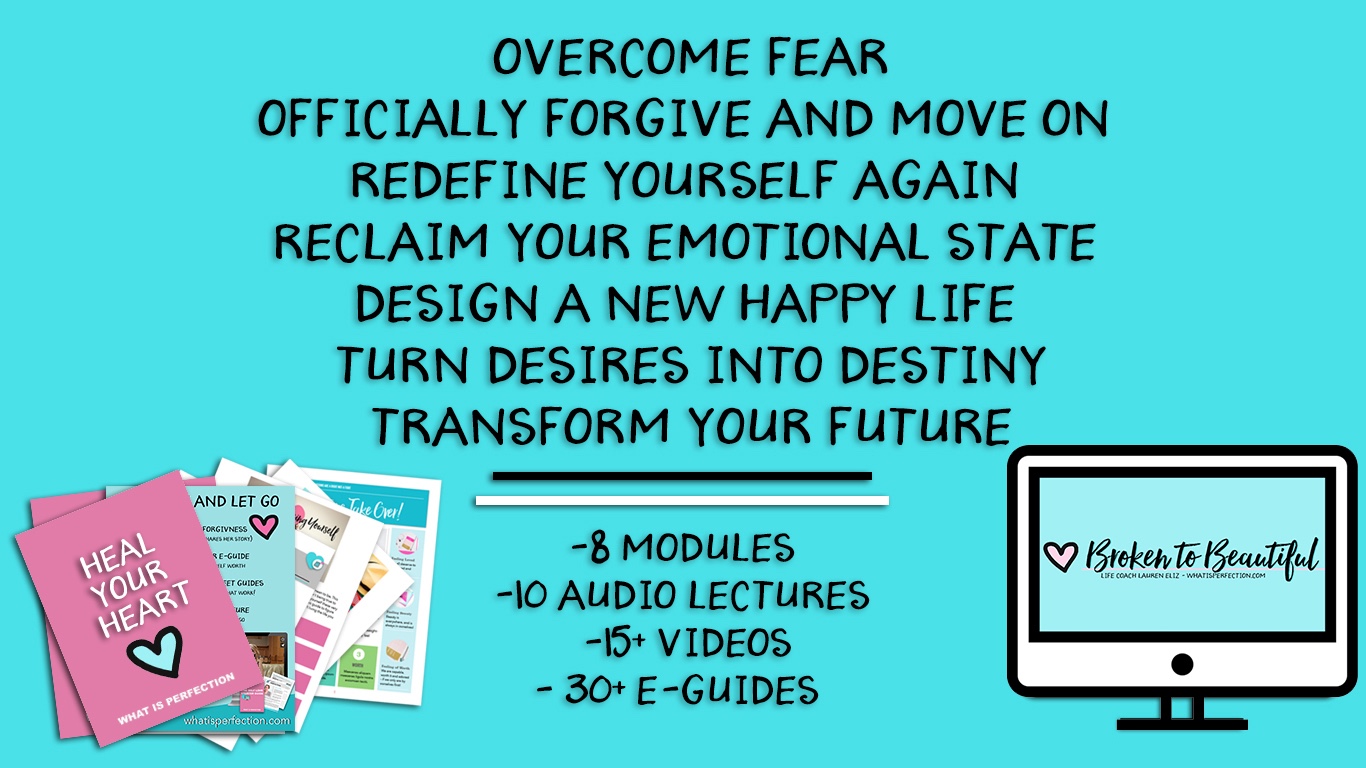 HERE'S WHAT WILL HAPPEN IN THE NEXT 30 DAYS
WITH THE BROKEN TO BEAUTIFUL PROGRAM.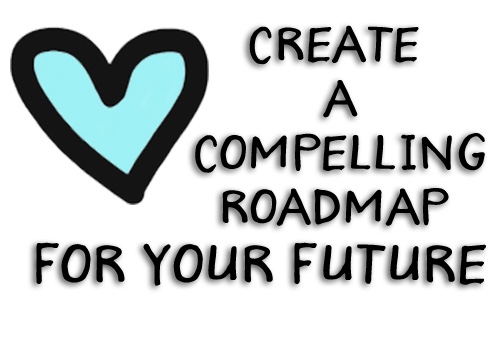 -Design A New Amazing Life: Create a new compelling roadmap for their future with my secret goal setting system.
-Establish New Empowering Beliefs: Break down the emotional barriers that keep you second guessing yourself.
-Create an Amazing New You: Unleash an amazing version of yourself so you never want to go back to that sad life again!
-Learn how to Prevent Future Heartbreak: Say goodbye to unhealthy relationships for good! Learn how to build new healthy relationships based on respect and unconditional love.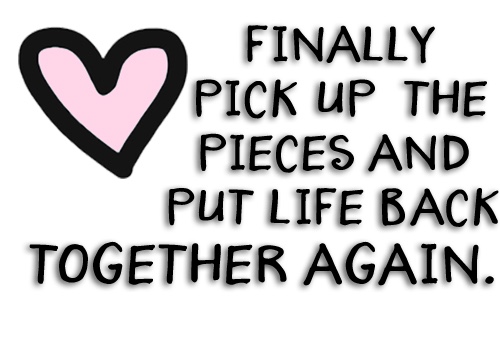 -Rediscover Your Self Confidence: Shake that "I'm not worthy" feeling and create a new beginning for your life (with pride!)
-Re-Establish Yourself and Your Happiness: Go from feeling stuck and alone to determined and unbelievably happy!
-Start Loving Yourself Again: Develop self love practices and techniques that actually work!
-Rebuild Your Life from the Ground Up: Make a big life transformation that isn't scary, challenging or too complicated.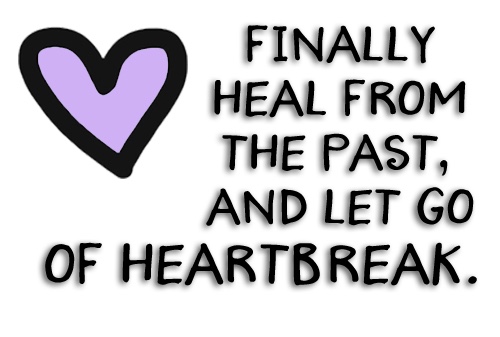 -Learn How to Let Go Of Loss: Stop feeling empty, alone and heartbroken. And start feeling happy again!
-Stop Feeling Like This Change is the End of the World: Silence that inner voice that says you aren't good enough and awaken the resilient sexy warrior who knows exactly what she deserves (and gets it every time!)
-Stop Feeling Worthless and Scared of Being Alone: Go from feeling unlovable and to believing you deserve better.
-Officially Say Goodbye to The Painful Past: Let go damaging beliefs that you formed in your unhealthy relationship to create an amazing new future for yourself.

If you want to make a change and get out of rock-bottom,
you need to do something different from what you have been doing.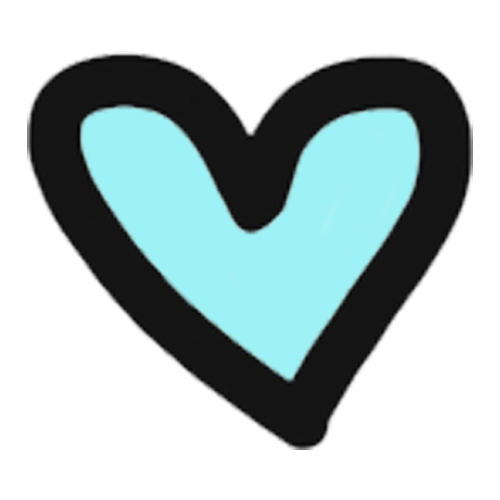 WANT TO BE THE PERFECT HAPPY YOU THAT YOU'VE ALWAYS WANTED TO BE?

You're in the right place to do it.
Because this 30 Day Transformation Course does exactly that.
Broken to Beautiful isn't program that tells you "don't worry, you will be happy again one day."
It's the program that actually shows you HOW to be happy again.
Step by step. No gimmicks. No magic fairy dust. No pretending.
THE REAL DEAL.

-Get out of rock bottom and fly into over-the-moon happiness.
-Heal your broken heart step by step.
-Discover the secret you've been missing you let go of the painful past.
-Recreate your life, your confidence and your self worth.
-Rewire your brain to stop feeling worthless.
Get confident.
Feel happy.
Be Awesome.
---

ARE YOU THAT GIRL THINKING THAT FEELING HAPPY IS IMPOSSIBLE?
-Constantly heart broken and never being treated right?
-Struggling to feel beautiful but never feeling good about yourself?
-Feeling stuck in rock bottom with no way of finding confidence?
-Longing for true love but never finding it or being treated right?
-Hating your body and how you look?
-Constantly unhappy, feeling stuck and lost?
You Can Change All of That. In 30 Days. Believe it.

STILL UNSURE?
I want you to take a moment and imagine a world where you could...
-Dramatically grow your happiness based on nothing but yourself.
-Heal your heart and let go of loss and failure.
-Stop second guessing/questioning your self worth.

-Feel amazing, confident and beautiful.
-Be the person that everyone loves and adores.
-Accomplish everything you want.
-Fall in love with yourself and your life.
Sounds amazing doesn't it?
Discover ALL the effective strategies to transform your life, your heart and your confidence in 30 days.

1,500 other women who I have coached through this program have gone from feeling broken to beautiful.
And you can too.