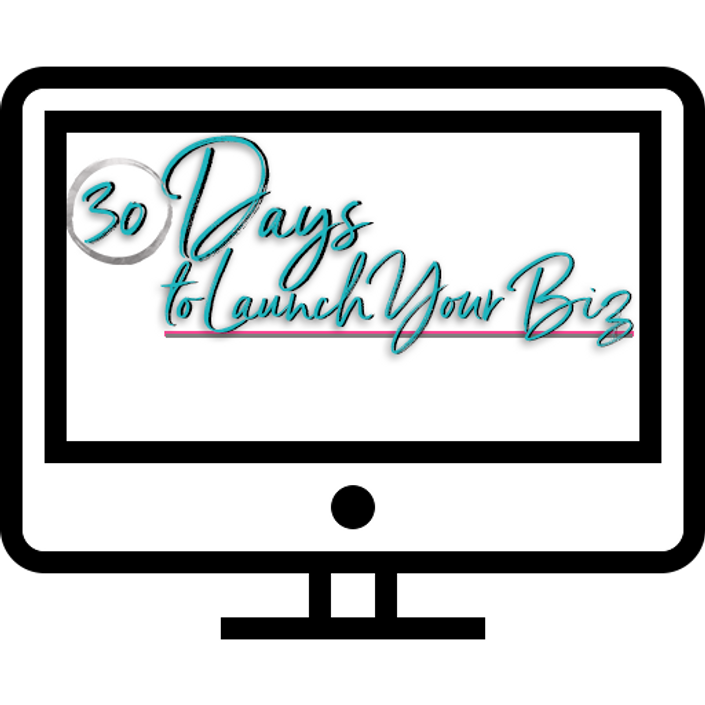 30 Days to Launch Your Biz
How often have you gone back and forth about starting that business you've envisioned?
'I want to help people, but who am I to do that?'
'I have an idea for a coaching business, but I can't figure out where to start.'
'I have no idea what I'm doing.'
'I am on an emotional rollarcoaster.'
'I've just decided I am going to sell this product, but I have no idea how to actually launch and announce my business!'
'I'm not sure what to start doing first. It's so overwhelming.'
'I sort of have an idea, but I haven't narrowed it down just yet.'
'I am so ready to quit my regular job, but I dont really know if I can actually build my own business.'
'WHERE THE HECK DO I START?'
Sound familiar?
How many of these thoughts cross your mind on a regular basis? Aren't you sick and tired of waiting on your dreams?
Guess what! It's time to stop waiting and start living.
30 DAYS TO LAUNCH YOUR BIZ.
What if in one month you could…
…design that gorgeous website with ease
…focus in on your market and your niche
…come up with a business plan you can scale to six figures
…start attracting clients and building your audience
I'm on a mission to show babes it is possible to create the business of their dreams, and to enjoy all of the freedom that comes with it.
"Lauren and I have been working together for around 7 months now. Prior to working with her, I was going in circles in my business. I achieved my first 7k week! Yup- WEEK! Which I never even had even when working in corp America. She helped me demolish my old beliefs and teach me to re-write new ones. Lauren is the real deal. As long as you do the work, she brings you results." -Carolina Romanyuk, #1 Sleep Consultant in NYC. Founder of Achieve with Carolina
I launched a multiple-six-figure business all on my own.
I didn't hire a web designer or a graphic artist.
I didn't consult with Pinterest strategy experts or social media marketers.
I did everything organically, from scratch.
Don't get me wrong, it was fippin' hard.
But guess what! I found the secret formula to getting my biz off the ground with ease.
In less than a year, I grew a six-figure coaching business, and then a multiple-six-figure income. Teaching people how to make that happen for themselves has become my obsession.
I used to be so afraid to invest in myself.
"What if this doesn't work?"
"What if I can't pay my bills after I spend this money?"
"What if this is a mistake?"
Now, I can clearly see that investing in my big vision was what actually made my big vision into a reality.
The minute I showed the universe I was serious about leveling up, it leveled up for me.
I learned how to properly market myself in the online space. I discovered the secrets to manifesting like a badass. I learned how to reclaim my online identity and expand my business to six figures.
I decided I was going to be the most successful version of ME I could possibly be. I was not going to take broke for an answer.
Today, Badass Business Babe brings in over 40K in sales per month.
So, how did I do it? How did I grow an online empire to six figures in less than a year?
The secrets of how I got my business off the ground are jam-packed into this program. You'll learn how to build a coaching empire from scratch and how to successfully run and operate a business that can grow and expand to six figures.
"30 Days to Launch Your Biz' created the foundation for my business! After years of feeling called to help people with so many things, I finally found my focus. And that feels so damn good! This program helped me make intentional decisions about how I show up as a coach, and the exact woman I'm serving. This gave me the solid foundation I needed, and the confidence to truly step into my business! I can't say thank you enough." — Allysia Jones – Founder of Style Your Life
"Thank goodness for 30 Days to Launch Your Biz! Totally came here looking for something- I thought I knew what it was. But the clarity and depth I've gotten just from this program has opened me up to a whole focused direction, a wee bit different than when I began! Thanks for this fantastic program!" – Leslie Greene
WHAT OTHER GIRLS ARE SAYING ABOUT 30 DAYS TO LAUNCH
30 Days to Launch Your Biz is designed to get your business up and running from the beginning so that you can find your way to financial abundance.
Over the next 30 days, we will do some deep work around:
-Your Ideal Client – Find out through this program and the exercises I share how to narrow down your ideal client. Figure out who you want to help. Who are your services for? The more specific you can get here, the more of an impact you can have on your wallet and the world.
-Your Message – I'll show you how to effectively reach out and announce your biz to the world! You'll learn how to message and market yourself clearly so that potential clients will know exactly who you are and what you stand for. -Your "Big Picture" Vision – Together, we will map out a strategy that will allow you to prosper financially. You'll learn how to strategize with the "big picture" in mind so that you can eventually scale your business to multiple six figures! -Your Branding – I'll dive into branding and understanding the importance of having a solid visual brand in the online space. We'll go over what that means and how you can create your own brand (which can be solid and beautiful even without a fancy graphics education). -Building Your Online Audience Without Paid Ads – I'll break down some of the simple techniques I use to get people into my coaching programs without having to pay for advertising.
If you work hard, you will reap the benefits.
Investing in your biz from day one pays off. The more work you do to build a strong foundation, the more freedom you'll have later.
Note: 30 Days to Launch Your Business is an entry-level coaching program for the serious biz babe who is ready to build her empire!
This program is for the babe who is ready to make money in her business. This program is for the babe who has a vision and a dream, but hasn't figured out how to get started. This program is for the babe who is ready to show up and do what it takes to shift into that six-figure vision.
This program is everything I learned while launching my business.
I'm not holding ANYTHING back, babe; it's all here for you.
Just a few years ago, I walked away from my cushy corporate job, 401k, vacation days and New York City apartment. No, I wasn't having a mental breakdown (though some people thought I was); I was taking a leap of faith to create the life of freedom I'd been craving for so long. I was sick of working 10-hour days, getting bullied by my boss, having zero time for fun stuff and being broke and miserable. I wanted to make more money, but I'd hit a glass ceiling in my corporate job. The truth was, I was MISERABLE. I wanted a life of FREEDOM. I wanted a life in which I could take vacations whenever I wanted to, in which I could spend time with my family. I wanted a life that was MINE. And so, I set out to create it.
I decided to start a blog. I created online courses and coaching content for women who were struggling in their own lives. I wanted to help women heal from the things I had struggled with myself (I have a crazy backstory – I've been the victim of rape and abuse; I've struggled with depression and anxiety. I've been through the whole nine). I wanted to show other women how to reclaim their confidence and take control of their futures.
I spent a year spinning my wheels, draining my savings and going broke. By the end of that year, I had sunken into 65K of debt. I had no clients, no income, no home, no car. I was miserable.
And then I had a breakthrough: I needed to stop begging for what I wanted in my life and start demanding it. I set my goals. I figured out what I needed to know and learn to thrive in the online space.
In less than a few months, BOOM! I went from broke to six figures. My business exploded before my eyes. I realized that everyone in the online space claims success is easy, but so few are actually sharing the methods that led to their success. It was in that moment that I realized I was never going to keep secrets.
Today, What is Perfection LLC, complete with Badass Business Babe, is a multiple six-figure income biz that is thriving and expanding every single day.
HOW DOES THE PROGRAM WORK?
This program is only for women who are SERIOUS about launching a business.
Note: This program is perfect for women who are either just starting or making no money through their online business and are ready to take massive steps toward making GREAT money.
This program is open-enrollment.
Each week, you will go through the assignments and trainings in the program. There is no one holding you accountable other than yourself, so print out the available schedule and hold yourself to the trainings and homework.
This program is for the babe who is ready to start living her dreams.
Each of the sessions is recorded so that you can revisit it afterward. The online course, "30 Days to Launch Your Biz," will be available to you for life. You'll have lifetime access to all of the trainings in the program.
This course is where you'll find your trainings, homework and assignments each and every week. Most of the trainings are on audio files, so you can download and listen to them on the go. Repetition is the mother of skill, babes!
The first two weeks of the program are about inner work, which includes mapping out the dream plan and forming a clear vision. I'll teach you, step by step, how to build a solid foundation for your business.
My intention in running the "30 Days to Launch Your Biz" program is to shift and stretch you to even higher levels of thought. By month's end, you should have a solid vision and game plan for your life and business.

WHAT EXACTLY WILL I LEARN?
-How to attract the "ideal" client who will actually pay you.
-How to build your website
-How to create a Facebook group
-How to create a solid professional brand
-How to solidify the types of products and services you offer
-How to announce you are open for business
-How to convince people you are an expert in what you do
-How to convince yourself you are an expert and good enough for hire
-How to price your services
I WANT 30 DAYS TO LAUNCH FOR $99
ARE YOU READY TO GO ALL IN?
ENROLL AND GAIN ACCESS TO THESE BONUS TRAININGS:
-How to Guarantee Six-Figure Success in Your Business
-How to Overcome the Fear of Failure in Your Business
-How to Spiritually Align with Money Flow in your Business
-New and Full Moon Rituals for Manifesting -How to Get Visible on Facebook
-Fixing your Niche and Targeting a Clear Audience
PURCHASE 30 DAYS TO LAUNCH YOUR BIZ BEFORE FEBRUARY 25 AND GET…
ARE YOU READY TO BE A SIX FIGURE BIZ BABE?
TAKE ME TO SIX FIGURE BIZ BABE
Lauren Eliz - What is Perfection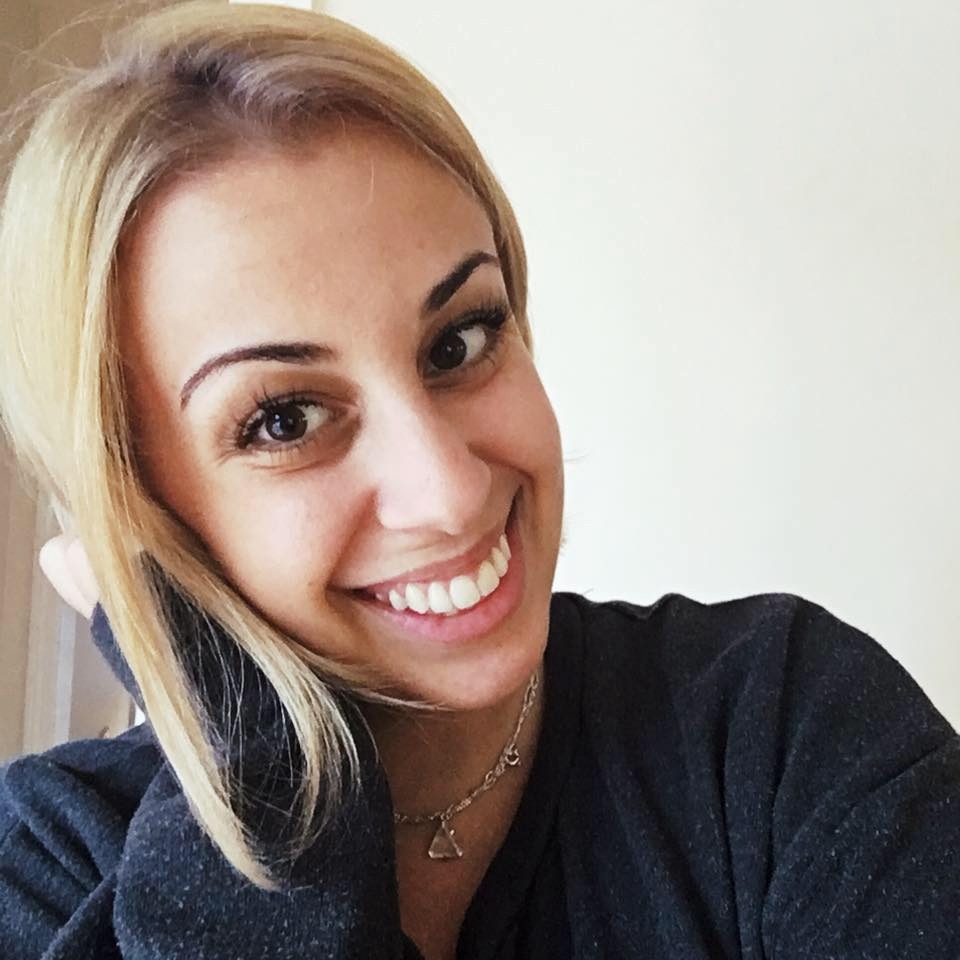 Lauren Eliz is a spiritual life and business coach teaching online entrepreneurs how to remove the blocks and receive money breakthroughs. The founder of What is Perfection - Lauren has spent the last seven years coaching hundreds of people into new levels of consciousness and financial abundance through her online programs, courses and one on one coaching programs. Lauren's coaching strategy combines the science of success strategies with the spiritual fulfillment practices that create a powerhouse business leader.
The Details
Welcome to 30 Days to Launch Your Biz!
Available in days
days after you enroll
Week 1: Identity - You, the Client and Your Brand
Available in days
days after you enroll
Week 2: Building a Powerful Message
Available in days
days after you enroll
GO TO BADASSSBUSINESSBABE.COM TO ENROLL